Derek Wishart Landscape Artist
A published Scottish artist.
Born in Dundee, even from his early years Derek showed a Great love of Art,
Particularly the works of the Great Impressionist Artist – Not at least Turner,
He went on to be Educated in Edinburgh, were he trained as a Professional chef,
A career that he would go on to follow for many years.
His passion for preparing wonderful food was often overshadowed by his desire to achieve perfection in presentation, undoubtedly a trait of his love of Art,
This inspired him to go to study art, both at college and private tuition.
Driven by his early inspirations,
Derek himself moved into impressionist art, inspired by the beauty of the ever – changing Scottish Landscape. His paintings are as diverse as the landscape, often featuring the Clyde Estuary, Arran and the Island around Ayrshire and the Rugged Scottish Highlands & Lochs.
Derek now based in the coastal town of Ayr says," In each of my pieces, I aim to capture the moment in Acrylics and oils, using all manner of utensils, including palate knives, sponges, all types of brushes, in fact anything else to hand in the studio, to create my unique style of art.
My main ambition is to take the viewer on a journey into the painting to give them a sense of peace and harmony."
His art works are now in private collections in the UK, Canada, USA, Spain, Norway, Holland. Croatia, Germany, Australia, Sweden, France,
Derek continues to enjoy creating each piece and a wide selection of originals and limited edition prints available for sale. He also relishes the challenge of undertaking private commissions.
Derek Wishart Ayrshire Artist. is featured in
Imago Mundi - Myth/Reality Contemporary Artists from Scotland.
Local Ayrshire Artist.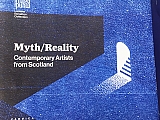 I am proud to have been invited & selected to be published as one of the top 140 artists
Imago Mundi - Myth/Reality Contemporary Artists from Scotland.
One critic said - "quote"
" You cannot simply glance at Derek's work and walk on, but stop and become involved "
Making his work rare and sought after & collectable.
info@derekwishart-artist.com